In honor of the first full week of Fall, don an outfit incorporating the colors of Fall foliage! According to wikipedia: "Autumn leaf color is a phenomenon that affects the normally green leaves of many deciduous trees and shrubs by which they take on, during a few weeks in the autumn season, various shades of red, yellow, purple, and brown." For the purposes of the challenge, I would expand that list to include the color orange, as well as the various shades of grey associated with tree bark. Don't forget to incorporate your favorite fall fabrics and textures (cords, tweed, etc.). Use this image for inspiration, and let's see what you've got: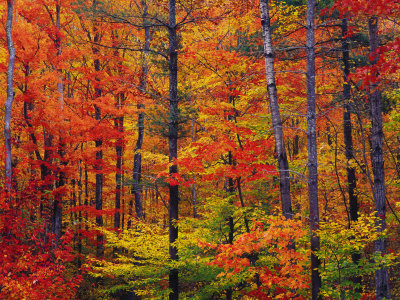 The usual rules:
1.) A challenge is proposed (typically on a Monday, unless the poster is a slacker, in which case the wee hours of Tuesday morning will just have to suffice).
2.) Ideas are bounced around throughout the week, any questions are codified, and guidelines are put into place.
3.) On Friday (or before), everyone dresses according to the challenge's parameters.
4.) On Saturday, all challengers are recorded and voting opens to see who best represents the challenge.
5.) A winner is chosen by majority vote on Sunday, and the winner is responsible for choosing the next week's challenge.