I am grateful for many of the reviews found here on the threads, so I figured I'd post some thoughts on a recent purchase to return the favor. There isn't much out there on this satchel, so perhaps some might find this helpful.
I was recently hired as a professor, and so finally decided to update my wardrobe and try to look the part of an adult, which was what led me to Dappered. I needed to ditch the backpack and get a briefcase or satchel that could carry my laptop, binders, folders and books, and also look fairly professional -- and I wanted to get something that would last, which is why I looked at leather bags. I travel a lot for work, so this thing will take a beating.
At first I was scoping out Saddleback, Copper River, Rustic and Diaz Bags, which all look great, but in the end I decided to look for a slightly more refined aesthetic because of my particular job and my wardrobe. I wear a coat and tie all the time, and quite often am wearing a suit. I had some credit and a discount a J Crew, so I ended up taking a gamble on the Montague leather satchel.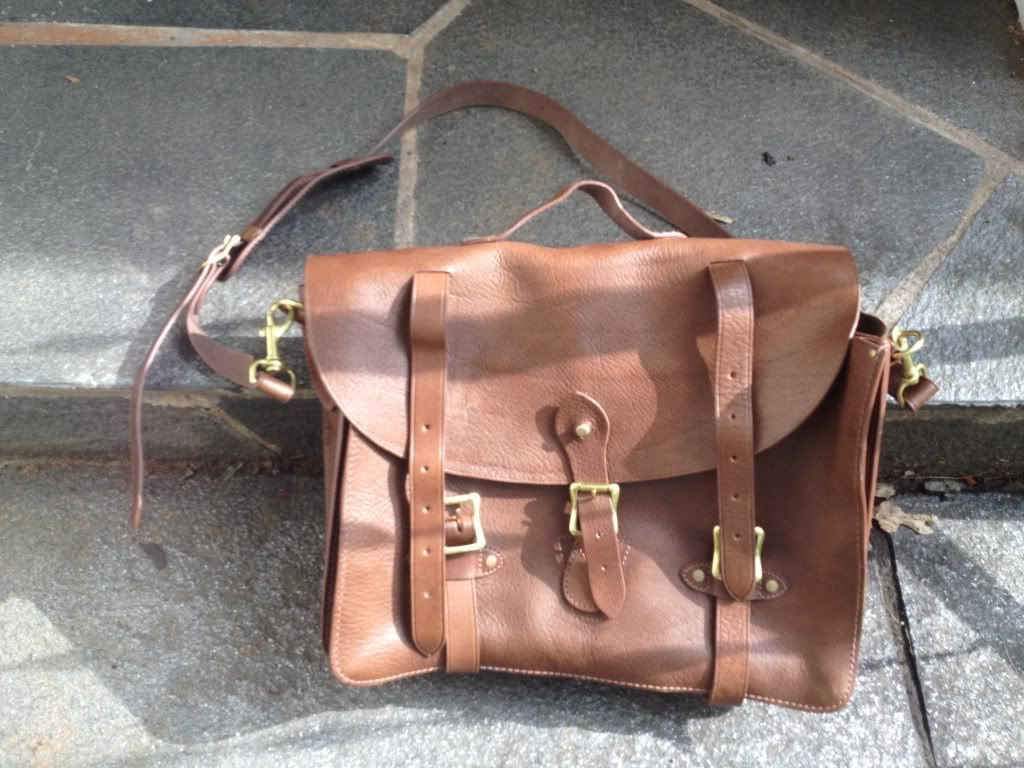 A disclaimer: I don't know much about leather goods, so if you have specific questions about the bag that I don't address, feel free to ask and I'll try to answer them.
First off: the bag looks nice and feels sturdy. It's only three pounds, so it isn't nearly as thick and heavy as the Saddleback bag. I don't notice it on my shoulder when it's empty. The leather is fairly pliable, and not at all stiff. The bag keeps a sort of shape because two of the the three straps wind around the entire bag and buckle into themselves, and they weave through the bag's top flap near the briefcase handle. The comfortable shoulder strap is also full grain leather, and is detachable. The handle is fairly comfortable to hold, and feels sturdy. It doesn't strain when picking up a fully loaded bag. The belt buckles are brass finish (not sure what that means about what's under the brass?) and are well designed, including a rolling section of the buckle where the prong hits. There are three buckles, which is perhaps overkill, but if you want the thing closed it will stay closed. The straps aren't hard to buckle, and I feel like I'll mainly use the middle one and then close all three when I'm traveling. When using as a briefcase, it's possible that a fully loaded bag would put undue strain on the middle buckle if it's the only one closed, but I tried that and it felt fine. When in use for long periods of time as a briefcase instead of a satchel, it might be smarter to close all three buckles (those extra ten seconds probably won't be so annoying, but perhaps so).
The internal compartment is unlined, and the leather is tanned all the way through. There is one internal patch pocket and a divider, so there is one main internal compartment and then a smaller one in front. There are no other pockets on the bag. The dimensions are 11"H x 15 1/4"W x 5 7/8"D, so it easily fits my 15'' laptop and several big books and folders. The pictures below include an 8x11 sheet of paper for scale.
The bag feels durable. It's no Saddleback, but from what I can tell from the videos, looks more like the Copper River in terms of it's thickness and strength. The buckles, rivets, and straps all seem sturdy and the stitching is thick and flawless. I'll be sure to update this post if things begin to fall off -- so if I haven't, it's fair to assume that the bag is holding up well.
The bag does look more polished than the more rustic sorts of bags out there, and I think part of that is the brass hardware, precise stitching and the textured leather. It's made with pebbled leather, which apparently scratches less than untextured leather and is a bit easier to take care of. It might mean that it will take longer to achieve "character," but this bag has a head start because of the textured look, anyway.
It's made in China, which is a lot less romantic that the "imported" (from where, you might ask? Maybe Italy?) on the J Crew website.
I don't really have any criticisms so far, but if I do I'll post them to this review when I come across them. Perhaps the price -- without a discount it's a bit much, but I got it for about the same price as the Copper River with the leather strap, so it was a wash for me. Some might not dig the pebbled texture. Others might feel it's too thin or too polished, or that there aren't enough pockets. But it's a solid bag overall.
Any questions about it?