Having already experienced a few weeks of hot summery weather so far, the beach/lake/river has been on my mind a lot recently. My swimsuits have a mysterious habit of disappearing in the shuffle between my house and my family's cabin every year, so I've been on the hunt for some new ones.
Figured I'd post up some of my findings since I'm sure I'm not the only one looking.
Birdwell 310
I can't remember how I stumbled on this brand, a long-standing name in the surfing community that still makes their products in California. At $80 a pop these are not cheap.
The 310 is their classic board short updated with a more modern fit (i.e. slightly lower rise), a button fly, and a short length. This style also comes in mid and long length versions. I haven't measured the inseam but it's comparable to other shorter-length trunks on the market, maybe 4".
The material is two-layered nylon for durability. It has quite a high sheen and almost no flex/stretch. The closure has little or no adjustability to it. Combined with the lack of stretch in the material, this means you really need to get a perfect fit to ensure comfort and wearability. They fit generally true to size - my usual size 31 is just about right.
I ordered these in a variety of colors (camo, burgundy, navy, light aqua) and will keep the camo ones. Overall these would not be my top recommendation unless you are enthusiastic about supporting American heritage brands or are into surfing or some other watersport where durability counts.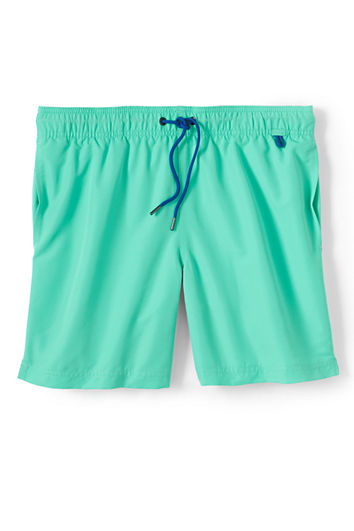 Lands' End 6" Volley Trunk

Basic, inexpensive (currently $23 on sale), available in a variety of colors and patterns (plus other inseam lengths). Decent quality. Nothing to write home about. The rise is a little high for my taste. But a solid option in a pinch. Stretchy material and drawstring elastic waist ensure these won't easily slide off in the water.
Abercrombie Guard Short
These shorts were a bit of a dark horse. Inexpensive (currently $25 on sale), pretty well made, nice fit, good-looking, simple design. These are similar to Lands' End's 6" volley trunks, but have a slightly lower rise and a tiny bit more give in the hip area, which makes them move better and feel more comfortable for me. I'm a big fan of contrast waistbands on swim trunks so I particularly like this mint stripe color. Like the LE trunks, these have an elastic waist and drawstring to ensure a snug fit.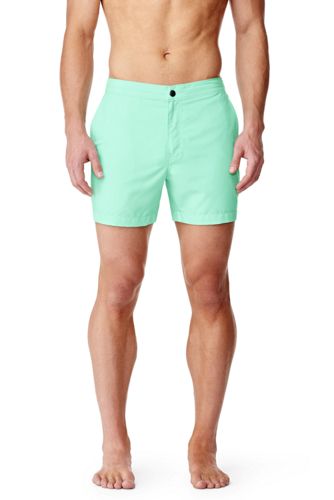 Lands' End Canvas Monterey Board Shorts
Despite the boardshort name, these are a more modern, Euro-style trunk. Nice stretchy material, and even though they appear to have a fixed waist, they also feature a hidden internal drawstring to ensure a snug fit. Sizing is a teensy bit large - 31 is comfortable but slightly loose. (Too loose if not for the internal drawstring.) The zipper and snap button closure are a nice touch that elevate these somewhat compared to similar trunks that use velcro closures.
The $59 pricetag is a bit steep, though, considering how simple and basic these are. They are Lands' End Canvas, so they will be excluded from promos but subject to whatever the LEC member pricing is. The aqua ice color is nice but the design is just a tiny bit too boring for me.
More to come.... Plus feel free to add your picks.