A couple of months ago a dappered member posted a question about Spier and Mackay. There was limited information online about them but a few posts on SF forum were positive about their experiences. I made a purchase during a promotion in March and decided to write up a review since they have such little presence in online blogs and forums. I've included a referral link at the end of the write-up, but feel free to ignore it.
Numbers
Me: 6'2, 185-190, lean/muscular build, 8 inch drop (42R, 34 x33.5).
Shirts: 15.5 Slim Fit, Blue Troyes Gingham, Navy Rainford Check, and Lavender Alyth Solid. All with semi-spread collars. The OTR shirts are based on collar size and fit fit (classic, contemporary, and slim) and do NOT have sleeve length options.
Retail: 48 CAD, promotional 3 for 119 (about 110 USD) with free shipping over 100
Measurements in inches: The number in the parentheses reflects shrinkage after two cold water wash and hang dry cycles
Pit to Pit: 21.75 (-.5)
Sleeve length: 34.4 (0)
Body length: 30.5 (-.125)
Collar point length: 3.125 (0)
Collar spread: 5.625 (0)
Of the three shirts I chose, I decided to return the Lavender because the sleeve length was too short at 34 inches. My sleeve length is 35 inches and I expected it to be 1/2 inch short at 34.5, so 34 was just too short.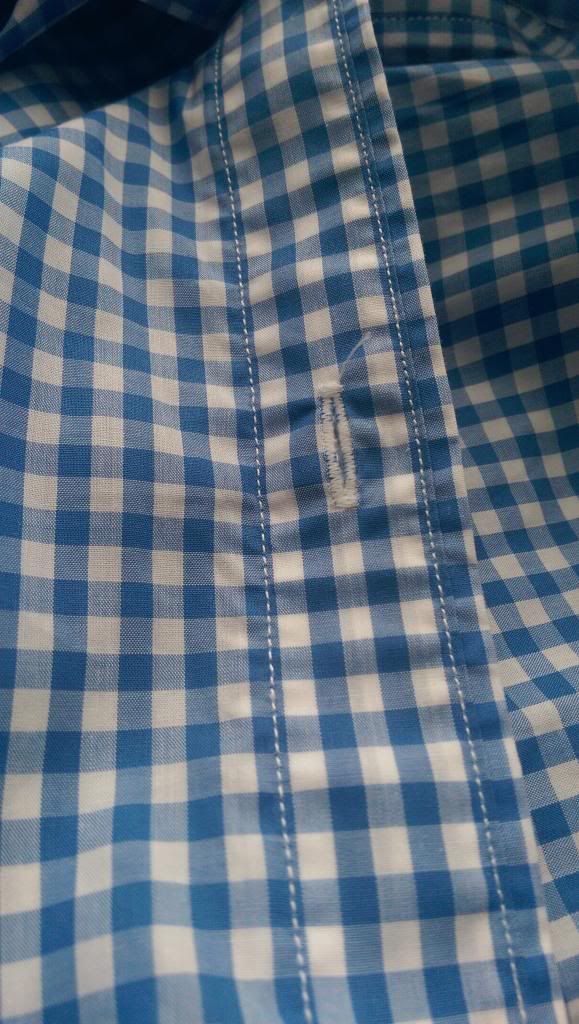 Construction and Fabric:
As described on their website, shirts have singe needle stitch work, split yoke with pattern matching, and all the fabric is 2 ply, 100% cotton with a range of 80's to 140's. Collars are hand turned and they've reinforced several areas to help with longevity of the shirt (i.e. gussets at the side seam/hem and triple stitching at the armholes). Buttons are substantial. They're natural river shell and quite tall at 3mm.
Overall, I was impressed with the construction and fabric. I've worn the shirts 4 times each and they've been washed (cold water, hang dry) twice. The shirt fabric stayed crisp throughout the day, has a soft hand, and was easy to iron after laundering. There were several standard features of the shirt that aren't offered at this price range. The stitching is straight and even, though there were several loose strands on the buttonholes on the gingham shirt. Pattern matching was decent, though to be fair it's hard to do perfectly with a split yoke and gingham pattern. Time will tell how they stand up to multiple wears and washes. The buttons are hefty. I prefer buttons at 2 mm, but have to admit they do enhance the quality of the shirt.