Got a couple random things around for sale. First up, some Persol PO2747-s 24/33 57 shades. Got them as a gift, wore them a few times, they just don't fit my face well. Lenses are brown, frames are "havana" which are like tortoise. Awesome classic frames.
They are these here:
http://www.sunglasshut.com/us/713132134801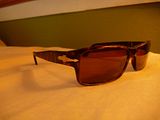 Lenses and frames are both in great shape. $120 + shipping (obro)
Also have a pair of Cognac Stacy Adams Jamison loafers I picked up and wore a few times before I ended up with some AE loafers.
Worn a few times, still in great shape, soles are hardly scuffed. Decent shoes - leather is okay, nice for the price.
$60 + shipping
lots of angles can be seen here:
http://www.amazon.com/Stacy-Adams-Ja.../dp/B003I65QW0