Spring cleaning time. There are a few more items likely to come up in the near future, but here's the current haul. I made some measurements with a tailor's tape (approximate, as I'm not a professional) and provided them below. Shoulder to Shoulder (S2S), Pit to Pit (P2P), Sleeve length (either from shoulder seam or middle back of shirt), and shirt length (measured from the bottom of collar) were all measured in inches and done with garment lying flat. US only and Paypal gift preferred. Prices include shipping.
First, the dress shirts. There are two Charles Tyrwhitt dress shirts and two Banana Republic non-iron, medium, slim fits.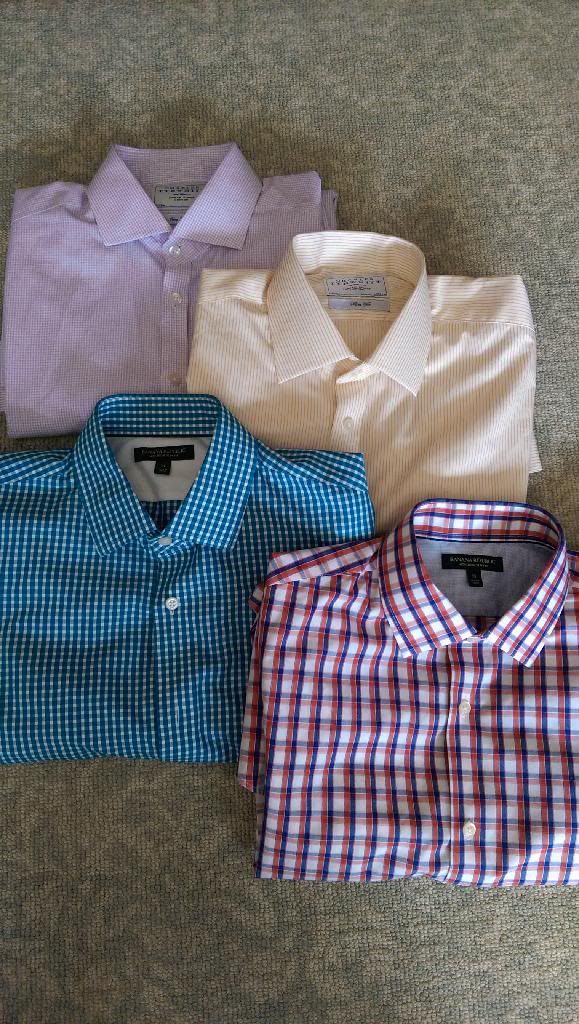 CT Lavender 16/35 Tailored fit: Non Iron, never worn, french cuffs. S2S: 18, P2P 22, Sleeve length 35, Shirt Length 31. $30
CT Yellow 16/35 Slim fit: Worn once, cold washed and hang dried, barrel cuff. S2S: 17.88, P2P 23, Sleeve length 34.75, Shirt length 31. $25
Both the blue gingham and orange/blue shirt are from Banana Republic and are non iron slim fits. The blue was worn twice, the orange and blue once. Both washed with cold water and hang dried. The measurements are the same. S2S 18.5, P2P 21.5, Sleeve length 34.5, Shirt length 30.5. $50 shipped for both.
J.Crew Single Button Ludlow chino sport coat in large. The jacket is a beautiful green color which you can't tell in this picture but is the same as shown in the first series of this blog:
http://jcrew.tumblr.com/post/5706292...ffice-wear-our
.
The jacket was never worn but was tailored to bring in the body. Unfortunately, the body length was just too short for my longer torso. It's 100% cotton with soft shoulders, dual vents, and would look fantastic with denim or chinos (navy or khaki). Perfect for the spring and summer. S2S: 19.5, P2P 22, sleeve length (as measured from shoulder seam) 25.75, jacket length from bottom of collar, 28.5. $115